Speaking engagements   
Workshops   Classes   retreats
There is a deep longing inside each of us to love and be loved, for freedom and happiness, to learn and evolve.
Diana Borges is a positive, motivational and authentic speaker who has inspirational stories to tell. She is passionate about sharing her extensive knowledge, life lessons and expertise so the audience walks away motivated to take action in their own lives. She is a non-traditional teacher who creates a safe environment for others to embrace life's lessons, raise their vibrations, access their own intuition and evolve into the person they came here to be.
Diana tailors her presentations to the needs of the audience and event. Some of the places she has presented/taught at include New Living Expo, Santa Rosa Junior College, Santa Rosa IONS, West Coast Dowsers and Metaphysical Conference, Subtle Energy Retreat, and radio stations.
Are you ready to enjoy life's magical mystery tour?
Workshops, Classes and Retreats
Learn to Live From the Heart and Be the Role Model For Your Own Life
Diana conducts workshops, classes and retreats that assist others in understanding themselves at a deeper level so they can co-create more fulfilled lives and assist with creating global coherence. Participants are taught concepts relating to subtle energies, interactions between the physical and energetic worlds, techniques to reopen the heart, how to overcome physical constraints of being a human and more. Exercises are performed so participants learn to modulate their own energy, strengthen their connection to their hearts and souls, access the collective consciousness and experience their expansiveness beyond the physical body. Diana also offers transformational workshops and retreats to assist others with their personal evolution, accessing higher consciousness and ascension. Healing sessions and experiential meditations are often included.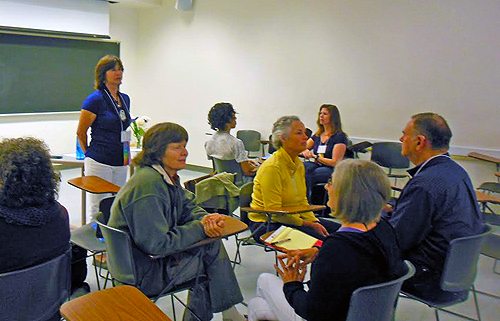 The workshop was informative, interesting and enjoyable. Diana provided information regarding the mysterious subject of energy in a straight forward and clear manner. Her presentation mixed in a number of personal anecdotes, which facilitated understanding of the subject matter, and made the experiential portions of the workshop fascinating and fun. I felt pleasantly energized at the end of the workshop. If you are interested in learning about energy and some of your wonderful capabilities, you should check out this workshop.
This class really helped me kick start my energy healing understanding. I recently was introduced to Reiki work and this course helped me to identify the energy that I am feeling. Excellent hands on exercises for energy work.